Major incidents have been declared in south Wales and parts of England, as Storm Dennis batters the UK.
Dyfed Powys Police said a man had been found dead after falling into the River Tawe, while South Wales Police said it was dealing with "multiple" landslides and floods – some trapping residents.
Homes have also been flooded in Herefordshire, where one resident said the storm had hit "like a tornado".
More than 300 flood warnings have been issued across the UK.
There are currently four severe flood warnings in England and two in Wales, which mean there is a danger to life.
A record number of flood warnings and alerts were issued for England on Sunday, according to John Curtin, the Environment Agency's head of floods and coastal management – reaching a combined total of 594 shortly before midday.
Jessica Falk Perlman, who is on holiday with her family in Crickhowell, Powys, to celebrate her mother's 60th birthday, told BBC Radio 5 Live that firefighters woke them at 04:00 GMT to tell them they were being evacuated because the River Usk had burst its banks.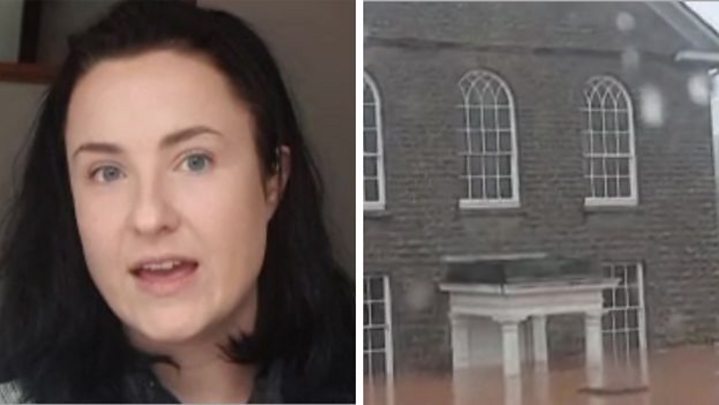 But water quickly came flooding into their holiday home, forcing them upstairs and stalling their evacuation.
"The door of our house burst open and water came flooding in right up to the top of the stairs which was quite nerve wracking at the time," she said.
"It's well over the front door of the house, it's flooded all the way up to the ceiling."
Amy Price, 20, said her family were trapped in the upstairs of their home in Llanover, Monmouthshire, because water on the ground floor had reached as high as the light switches.
"The river started rising about 1am and at 3am it started coming into the house," she said.
"We started sweeping the water away and then at 6am the river started coming over the bank."
South Wales Police said emergency services were working with local organisations to ensure the safety of people in communities cut-off by flooding, and to minimise damage and disruption.
Emergency centres have been set up for those who have been displaced.
Assistant chief constable Jennifer Gilmer praised rescue workers' professionalism and advised people "not to panic".
Meanwhile, in Herefordshire, the council said it was working with the emergency services, the Environment Agency and health partners to assist residents.
It urged people to avoid unnecessary travel and check on their neighbours, and said "rest centres" are being set up for those who need to be evacuated.
Sarah Bridge, 55, compared Storm Dennis to a tornado and said water had flooded her home in Pontrilas in Herefordshire despite specialist flood doors, reaching her knees.
"It's heartbreaking," she said. "The kitchen is completely flooded, I can hear things floating about downstairs."
A major incident has also been declared after flooding at properties in Lowdham in Nottinghamshire.
Properties were also flooded in Tenbury Wells, Worcestershire – and residents were urged to take "extreme care" by the area's Environment Agency manager.
Transport Secretary Grant Shapps told Sky News's Sophy Ridge that the UK government was "stepping up its response" to extreme weather conditions.
He said it had put £2.4bn into defences over a six-year spending period up until next year, and would allocate £4bn for the next six-year period.
Of the flood warnings, more than 200 apply in England, more than 60 in Wales, and more than 20 in Scotland – where two people had to be rescued after their car was swept off the road near Newcastleton.
In York, the Environment Agency has predicted the River Ouse could come close to record levels seen in 2000.
Across the UK road, rail and air travellers also face disruption.
About 170 flights were cancelled on Sunday morning, affecting at least 25,000 passengers.
Highways England said strong winds had closed part of the M48 Severn Bridge eastbound, while flooding closed part of the M54 and A-roads in Lincolnshire, Herefordshire, Derbyshire, Nottinghamshire and Gloucestershire.
This means flooding could cause a danger to life, power cuts are expected and there is a good chance transport links will continue to be impacted.
Wind gusts reached 91mph on Saturday, according to the Met Office.
Last weekend Storm Ciara brought as much as 184mm of rain and gusts reaching 97mph. It also caused hundreds of homes to be flooded and left more than 500,000 people without power.
Have you been affected by Storm Dennis? Get in touch by emailing [email protected].
Please include a contact number if you are willing to speak to a BBC journalist. You can also contact us in the following ways: