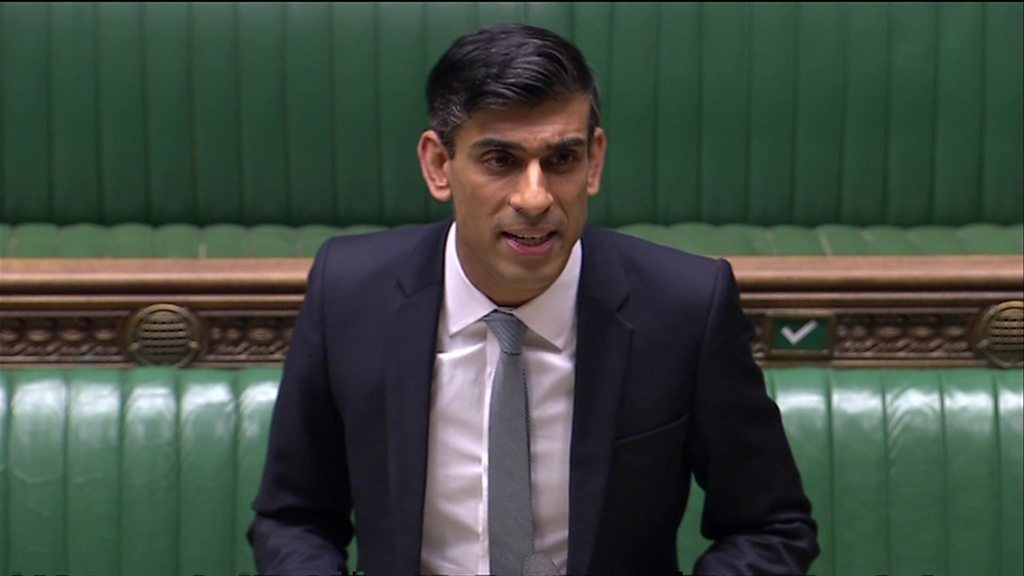 Chancellor Rishi Sunak is to cut VAT on hospitality as part of a £30bn plan to prevent mass unemployment as the economy is hit by coronavirus.
The government will also pay firms a £1,000 bonus for every staff member kept on for three months when the furlough scheme ends in October.
And Mr Sunak announced a scheme to give 50% off to people dining out in August.
The chancellor warned "hardship lies ahead", but vowed no-one will be left "without hope", in a statement to MPs.
Labour said the plans did not go far enough and the job retention money should be better targeted to prevent it going to firms that were already planning to bring staff back.
'False hope'
"We were promised a 'New Deal', but what we got was a 'Meal Deal'," the party added.
Mr Sunak rejected calls to extend the furlough scheme beyond October, saying it would give people "false hope" that they will have a job to return to.
He conceded that jobs would be lost but said he would "never accept unemployment as an inevitable outcome" of the pandemic.
Details of how the package will be paid for – through borrowing and possible tax rises – are likely to be unveiled in the chancellor's Autumn Budget.
"Over the medium-term, we must, and we will, put our public finances back on a sustainable footing," he told MPs, adding that the jobs plan was merely the next stage "in our fight to recover and rebuild after coronavirus".
'Decent work'
The "job retention bonus" could cost as much as £9.4bn if every furloughed worker is brought back.
Explaining how it will work, the chancellor said: "If you're an employer and you bring back someone who was furloughed – and continuously employ them through to January – we'll pay you a £1,000 bonus per employee.
"It's vital people aren't just returning for the sake of it – they need to be doing decent work.
"So for businesses to get the bonus, the employee must be paid at least £520 on average, in each month from November to the end of January – the equivalent of the lower earnings limit in National Insurance."
He told MPs he will cut VAT on food, accommodation and attractions from 20% to 5% from next Wednesday.
This cut will apply to eat-in or hot takeaway food and non-alcoholic drinks from restaurants, cafes and pubs, accommodation in hotels, B&Bs, campsites and caravan sites, and attractions like cinemas, theme parks and zoos.
Rishi Sunak said this "£4bn catalyst" would help protect "over 2.4 million jobs". The Treasury said it hoped firms would pass the VAT savings on to customers but many had been without income for months so it would be their decision.
Mr Sunak also announced an "Eat Out to Help Out" discount, which he said would help protect 1.8 million jobs, at cost of £0.5bn.
Meals eaten at any participating business, Monday to Wednesday, will be 50% off in August, up to a maximum discount of £10 per head for everyone, including children.
Businesses will need to register, and can do so through a website, which will open next Monday.
Kate Nichols, chief executive of UK Hospitality, which represents bars, restaurants and visitor attractions, tweeted: "Thank you to Rishi Sunak (for) recognising the importance of tourism and hospitality and the benefit it brings to economy – this will make a material difference for the sector as we face a long road to recovery."
Stamp duty holiday
The chancellor also announced a £2.1bn "kickstart scheme" to create more jobs for young people.
The fund will subsidise six-month work placements for people on Universal Credit aged between 16 and 24, who are at risk of long-term unemployment.
Mr Sunak also announced a temporary stamp duty holiday, costing £3.8bn, to stimulate the property market.
This will exempt the first £500,000 of all property sales from the tax, from midnight.
The chancellor outlined a number of other measures in the build-up to his statement, including:
Labour's shadow chancellor Annaliese Dodds said the chancellor should keep the furlough scheme going in certain sectors and to allow for localised lockdowns.
"There is still time to avoid additional floods of redundancy notices," she told MPs.
Ms Dodds said the unemployed "claimant count" was on course to top three million people in June, "the highest number since the previous record in 1986".
Some 9.3 million workers are having 80% of their salaries paid for by the government – up to £2,500 a month – under the furlough scheme, which was originally due to end in July, before being extended to October, with employer contributions.
From August, employers must pay National Insurance and pension contributions, then 10% of pay from September, rising to 20% in October.
Dame Carolyn Fairbairn, director general of the CBI, said: "The job retention bonus will help firms protect jobs, but with nearly 70% of firms running low on cash, and three in four reporting lack of demand, more immediate direct support for firms, from grants to further business rates relief, is still urgently needed."
Mike Cherry, chairman of the Federation of Small Businesses, said the newly self-employed and company directors had "once again been overlooked".
---
The Chancellor has just outlined another hefty chunk of spending to try to prop up the economy, specifically to try to keep millions of people from joining the dole.
Many of the measures run against traditional Tory instincts. And there isn't a whiff of how any of it will be paid for, for at least another couple of months.
But that's against the background of the sharpest decline in the economy in generations, with the fortunes of what will actually happen next dependent on the progress of a deadly disease.
The opposition parties already suggest that the scale of what the government is proposing falls short of what will be required.
Rishi Sunak admitted in his statement "our plan will not be the last – it is the next", knowing full well that the profound economic impact of the coronavirus crisis is far from passed.
Read more analysis from Laura Kuenssberg
---
Will the kickstart scheme benefit you? Are you looking to buy a home, what are your views on the stamp duty changes? Will VAT cut benefit your business? Have you recently become unemployed? Email your thoughts to [email protected].
Please include a contact number if you are willing to speak to a BBC journalist.